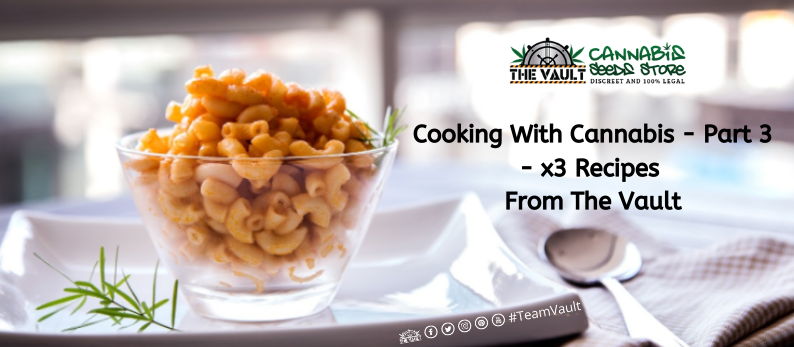 There are so many amazing different ways to create edibles that it has been impossible to fit it into one article, or even two. We are breaking the bonds of normal cannabis cookery and venturing into the culinary unknown. Well, that's a little dramatic, but still, we are exploring some exciting concepts. Edibles don't need to be cakes, brownies or cookies and as someone lacking in much of a sweet tooth, I think it's essential to find new ways to enjoy weed-filled food. In this instalment of Cooking with Cannabis, we are going to be looking at exclusively savoury space treats. As I'm writing this on a rainy Sunday afternoon I'm going to dedicate this segment to comfort food.
Mac and Cheese
This delicious classic uses cannabis butter, the recipe for which can be found in part 1. Mac and Cheese is one of the most popular comfort foods, it's easy to make and always crazy delicious. A little dangerous to add cannabis to as I could easily go through an entire tray of macaroni and cheese without the munchies. This is my own personal recipe for mac and cheese that has been altered, feel free to use whatever kind of cheese is preferable.
500g of Macaroni
80g of Cannabutter
3 tbsp of Wholemeal Flour (or plain if you prefer)
600ml of Milk
1tpsb of Mustard Powder
350g Sharp Cheddar
350g Gruyere
Pinch of Cayenne Pepper
100g of Breadcrumbs
First pop the oven on to preheat at around 200 degrees C in a fan oven, 220 in a regular oven. Cook the macaroni until soft then set aside, it's sauce time.
Remove around 3tbsp of the cannabutter for later, pop the rest into a saucepan over medium heat and let it start to brown. Whisk in the flour and cook for about 3 minutes till it has formed a paste. Ass the milk just a little at a time and as it starts to become a sauce begin putting your cheese in a little at a time, keep some aside for the topping. Keep mixing the sauce to maintain a smooth texture. Once you have a thick cheesy sauce add in the cayenne and mustard powder, mix until completely absorbed.
Now we can mix the cooked pasta into the cheese sauce. In a separate bowl mix together the melty leftover cannabutter with the breadcrumbs and the rest of the cheese.
Pour the coated macaroni into an oven dish, top with the cheesy, buttery crumb mix, and pop into the oven. Cook for about half an hour until the top of the mac and cheese is lovely and crispy. Stand for a few minutes and then serve the cheesy weedy goodness.
Mashed Potatoes
This is a very simple one, but personally, if I am in ultra comfort mode I will just eat an entire bowl of mashed potatoes. However, if your life is going well you can use this recipe as a side to a lovely stake or some stuffed mushrooms.
50g of Cannabutter
500g of Potatoes
1 – 2 tbsp of Double Cream
Salt and Pepper
Of course, this is an extremely easy recipe with almost no steps. First, you just need to prepare your potatoes, chop them in half and either peel them or leave the skins on if that's your preference. Boil them until you can stick them with a fork and they slip back into the water, at least that's how I check them. Once they are done drain them well and make sure they are totally dry before continuing. Whack them in a bowl and mash them good with one of those mashing things. Once they are lovely and fluffy add in the cannabutter and mash again, making sure it gets through all of the potatoes. Add a smidge of the cream and mash once more, keep doing this until you get your desired consistency. I'm a thick mash person myself but I know some people prefer it a little smoother.
That's basically it, once it is lump free and super creamy just add salt and pepper to taste.
Nachos
This recipe is a little different because it just requires some ground up cannabis, rather than butter or oil. This time we are putting the weed straight in the cheese. Of course, if you have a nacho recipe you prefer then go for it, add beef or beans or anything you like. I'm just going to give you the basic cheese nachos recipe and let you go wild with it.
150g of Cheddar (or if you're feeling authentic a Mexican blend is always good.)
200g of Tortilla Chips (again if you're feeling fancy do make your own)
1tsp of Ground Cumin
½ tsp of Chilli Powder
1tsp of Hot Smoked Paprika
100g of Chopped Cherry Tomatoes
3g of Ground Cannabis
200g of Black Beans
1 Chopped Onion
First, we are going to melt all of our cheese in a pan before adding the weed, then pour the cheese into a container to resolidify. This way when we grate the cheese later it will get nicely redistributed. While we are doing this we can preheat the oven to about 200 degrees C.
Next, we put the onions into a medium heat frying pan to sweat a little before adding the black beans and various other seasonings along with the chopped up cherry tomatoes. Stir and cook for 5 – 10 minutes. Once this is done set aside and get out an oven tray.
In the oven tray put down a layer of chips, then a layer of your tomatoey beans and a layer of grated weed cheese. Add another layer of chips and repeat until you run out of ingredients, obviously ensure a cheese layer ends up at the top. Pop the layered nachos in the oven for 8 – 10 minutes then top with whatever you like. I suggest spring onions, jalapenos and sour cream.
These are just a few of my favourite comfort foods, enhanced with another super relaxing element. The perfect additions to a rainy Sunday afternoon.
Remember: It is illegal to germinate cannabis seeds in many countries including the UK. It is our duty to inform you of this fact and to urge you to obey all of your local laws to the letter. The Vault only ever sells or sends out seeds for souvenir, collection or novelty purposes.
Make sure you never miss another Vault promo and sign up for our newsletter at http://goo.gl/Bt2Ba2