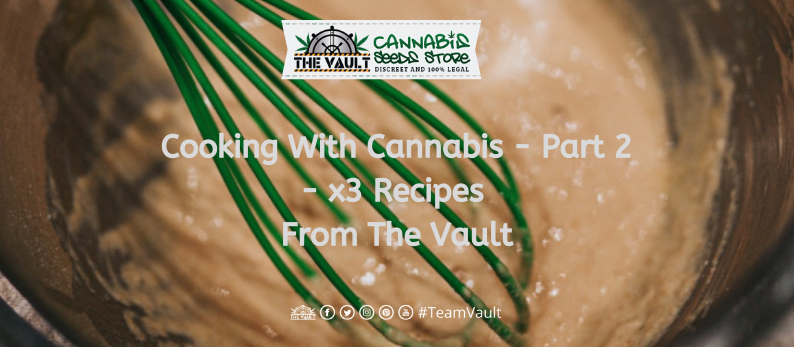 That's right it's time for another instalment of Cooking with Cannabis, the number one place to get all the best weed-based recipes. Last time we had a look at some sweet and some savoury, so I want to keep that going. Personally, I like to have a decent mix, it can't all be pot brownies and cookies. In fact, this time we are going to have a look at some of the healthier recipes out there, including cannabis-infused salad dressing and some delicious soup. Don't worry, there will still be plenty of tasty sweets to indulge in after being so well behaved. For instructions on how to prepare cannabis oil and cannabis butter please have a look at part 1.
Cannabis Vinaigrette
This vinaigrette is perfect for all sorts of delicious salads, a perfect lunch time treat for a stressful day.
We will need:
118ml of Olive Oil
½ tsp of Salt
1 tsp of Honey
1 tbsp of Toasted Sesame Seeds
80ml of White Wine Vinigar
1 tsp of Dijon Mustard
1 Finely Chopped Shallot
It is extremely simple, basically we just need to mix all of these ingredients together in a big bowl except the cana oil. Once the vinaigrette is made just slowly stir in the oil until it's all combined. Personally I love this vinaigrette with a simple salad, just mixed leaves, a little fetta, and some beetroot, or whatever realy it goes with most things. Definitely a slightly boojier way to enjoy cannabis.
Tomato Soup and Grilled Cheese
This is an absolute personal favourite for a winter evening, and perfect for those of us who need a little more than just soup to make a meal. I am a firm believer that tomato soup and grilled cheese is one of the best combinations known to man, add in cannabis and it is unstoppable.
For the soup we will need:
1.25 kg of Fresh Tomatoes
1 Onion
1 Carrott
1 Stick of Celery
1 tbsp Olive Oil
2 tsp of Tomato Puree
2 Bay Leaves
1.2 Litres of Vegetable Stock
1 Pinch of Sugar
First cut the tomatoes into quarters and the other veg should be chopped up relatively small. Pour the olive oil into a large pan and heat gently before adding in the onion carrot and celery. Let these sweat covered for a while before adding the cannabis oil and stiring in thoroughly. Add in the tomato puree and stir into the veggies until they are fully coated. Pop in the pinch of sugar along with the tomatoes. Then tear up the bay leaves and toss them in, covering the pot again and letting it all get juicy for about 10 minutes. Make sure everything stays well mixed together in the pot before adding the vegetable stock. Stir everything together and let it simmer gently for about 25 minutes. Once the tomatoes have gone all squishy use a hand blender to mix all of the ingredients together. Blitz until the soup is completely smooth then add pepper and salt to taste.
For the grilled cheese we will need:
Two Slices of Crusty Bread (fresh is possible)
Preferred Cheese (I like mixing mozzarella and cheddar for the meltiness)
Cannabutter
This one is easy as anything, all you need is to butter the outsides of your bread, pop the cheese in the middle and toss it into a frying pan. Once the bread browns and the cheese melts it's all ready to dip in your soup.
Space Cakes
Let's go for a classic next, the space cake! These little babies pop up pretty much everywhere that cannabis goodies are sold.
We will need:
200 g of Cannabis Butter
260 g of Flour
200 g of Granulaed Sugar
1 ¾ tsps of Baking Powder
½ tsp of Salt
2 Eggs
177ml of Milk
From here you can pretty much go for whatever you like in your cake, personally I'm a fan of a tsp of vanilla essence and a hand full of chocolate chips so that's what I'm going for.
Preheat the oven to around 190 degrees celsius and grease a cake pan with butter ready for your batter.
Mix together all of the ingredients together in a big mixing bowl and keep on mixing until the consistency is smooth. It's important to make sure the cannabis butter is spread evenly throughout the mixture. Sprinkle the chocolate chips in at the end and mix through thoroughly to make sure they are evenly distributed. Pour the batter into the waiting cake tin and pop into the oven for 25 minutes. After it has been baking for 25 mins check the centre of the cake with a skewer, if the batter sticks it needs a little longer but if it comes out clean the cake is ready to cool. Pop the cake to the side to cool for about 20 minutes in the tin, once it is cool enough to remove from the tin pop it on a wire rack to cool for another 30 minutes. Once it's cold enough it'll be ready for cutting up and snacking down (if that's a phrase).
The best thing about this recipe is that you can put in pretty much anything you like. Fruit, cocoa, nuts, basically any kind of delicious spacey cake you can imagine. Test the limits of the imagination and get inventive with this fantastic base recipe.
These are just another few of my absolute favourite recipes, in fact this installment of cooking with cannabis can easily be used for an entire cannabis dinner party. Or even just for a few different light lunch and snacking options. There are hundreds of ways to use cannabis butter and cannabis oil, it's important to get innovative with edibles. We can use cannabis in almost any recipe, so there is always a chance to add a little kick to our food favourites.
Remember: It is illegal to germinate cannabis seeds in many countries including the UK. It is our duty to inform you of this fact and to urge you to obey all of your local laws to the letter. The Vault only ever sells or sends out seeds for souvenir, collection or novelty purposes.
Make sure you never miss another Vault promo and sign up for our newsletter at http://goo.gl/Bt2Ba2